Recent studies show that 68% of employees feel that their organizations are not doing enough to create a positive work Culture. Another study shows that 50% people list work culture as one their top priorities when looking for a job. So many of the dealerships that I have visited or worked in all are complaining about good help is hard to find. When the fact of the matter is you have developed good help to be successful. In the Automotive Industry I have been around some successful dealerships and successful organizations in which I have found they all have a similar structure to them. Starting with the ability to strengthen and structure a Winning Culture with strong core values.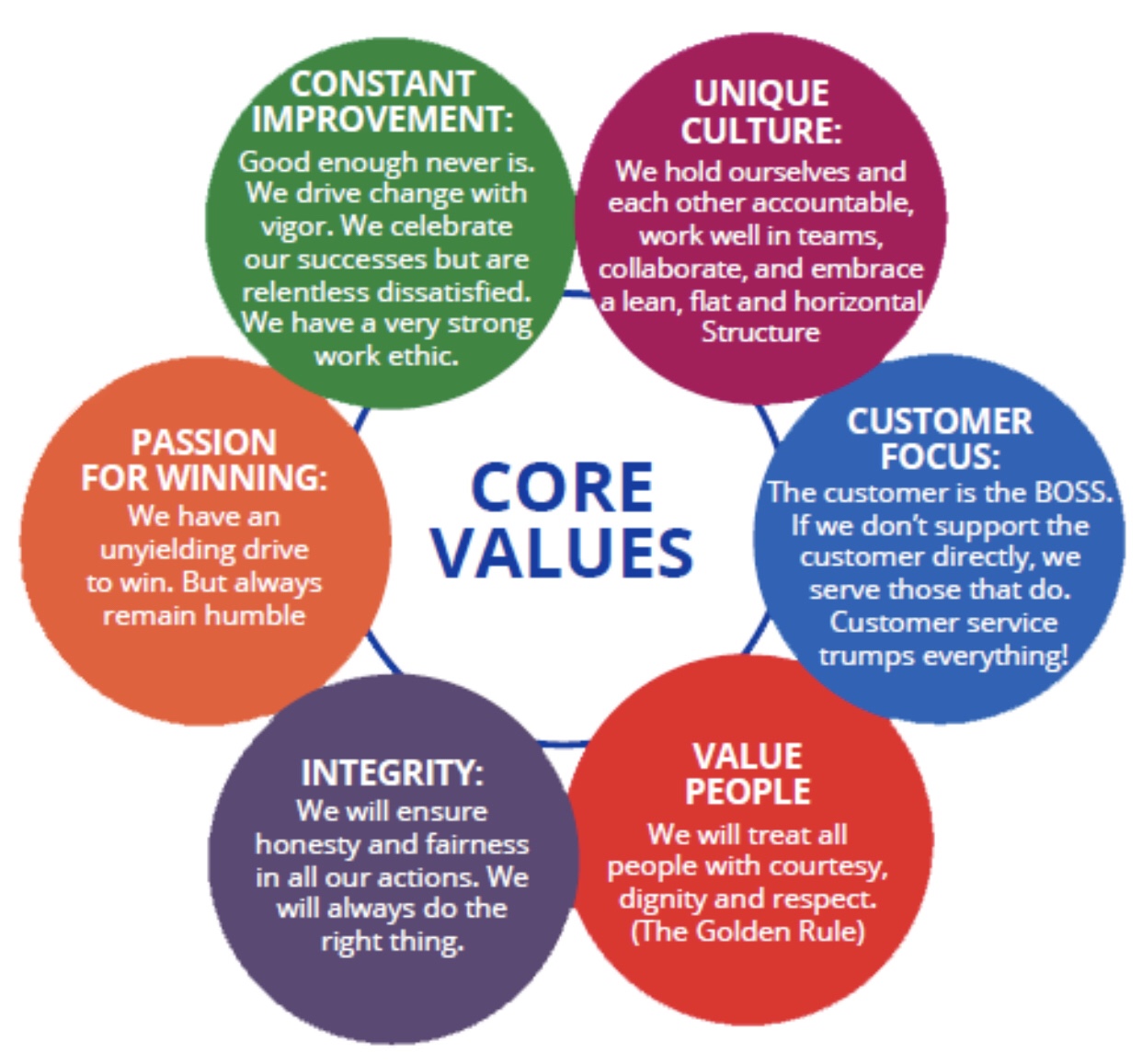 This is a sample diagram of a successful organization's core values.
Strong Core Values
If your dealership or is struggling to keep people in your various departments throughout your store, chances are your values are weak. Perhaps your Management Team is not sold on your core values or maybe you don't have anything you want them to consistently follow when it comes to value. For example, what's the one thing you want everyone works for you to know and understand across the board? Do you have Mission Statement and does everyone in your dealership know it and believe in it? Does your dealership have integrity as one of your core beliefs? The way to structure your dealerships and strengthen the culture is to come with several core values you believe will improve your business as well build a positive environment. Your Core Values should be something that you are confident in to get you the success in which you went into business for. This is something that must be the key thing that make employees want to become apart of your team.

Team Concept
There is an old saying that was once said and it says that if you help people to get what they want, then you will get everything you have ever wanted. This is a philosophy that everyone in leadership in your dealerships should have. However, far too many dealerships are weak and failing because the strength is weak within your staff. Good strong employees add value to your organization. Meaning your people in leadership positions in your dealership should adapt methodologies from my Championship Attitude message such Active Listening and Active Communication. For example, people hate to be told what to do but love to be asked "what do you think?" Inclusion is important if you want to strengthen your dealership's work culture and get people do things you want them to do now with some authority and then now your employees have a sense of purpose. Your employees are the Super Heroes in your dealerships; they are the reason you have record months, repeat and referral business. Not saying that you have submit to their every word but you listen and include them in the decision and success of the store. You see, Ingagement keeps your people motivated and focused vs Engagement which makes them feel like they are all taking orders and told what to do as well as how to do it. Besides, employees love to feel that strong since belonging.
Personal Development
You want to strengthen the culture in your dealerships, then what better way for you to do that then by offering to improve the Personal Development of your people. Studies have repeatedly showed that organizations that provide opportunities for personal development remain at the top tier levels in the respected industries. Employees, not only want to have voices and a since of belonging, they also want opportunities for growth within your organizations. Employees would love to enter a management training program or the opportunity to further their education as a possibility for advancement. These ideas implemented in your dealerships would be a great addition to improve the work culture, which in turn increase your gross profits and most of an increase in your net profits. Happy employees will definitely cut down on your turnover and encourage others to join your organizations. Personal Development is a true factor in the success of a dealership.
Transparency
You want your team to perform better, the try being transparent and inclusive. Most employees feel the reason they become so disengaged with their job is because employers are always hiding something or they aren't committed to being inclusive. Employees want clarity from their place of employment, which would make a world of difference in how employees view themselves as a part of the team. Not being transparent causes separation and division, which is a appetite for destruction. One of the biggest complaints I here at dealerships when it comes to sales people is about their pay plan structure. Too many times Sales People especially new ones don't know the pay plan or the dealership changes the pay plan without an explanation why? How about the the delay in pay on a deal that is long down the road? This by far is the biggest problem in many dealerships. Be very clear about their pay plan if managers cannot explain or the payroll clerk, then you had better find someone who can. Transparency with pay will save your store some major drama and reduce turnover. If you can be clear with the plans of your business with your employees then you will have success in many areas of your store. Transparency places trust in the workplace and unifies your people to work harder everyday. Transparency will totally improve the culture in the workplace and strengthen the future of your business.
We need stronger workplace cultures in the automotive industry to build a better culture and it has start with a commitment to build a strong work culture.
Increase your dollar per car, your net profits month in and month out. And of course reduce the turnover in your store by building a strong work culture.
About Roger,